Windows-based personal lines comparative rater with policy management
Accurate, Fast, Complete.
Capture the power of CCiRater and enter a new world of superior rating and policy management that turns time wasting jobs into simple, efficient tasks. Give your producers the power to be more productive and make your agency more competitive.
Features
CCiRater comparatively rates: Automobile, Homeowner, Dwelling, Mobile Home, and Motorcycle.
Super fast EasyApp™ quoting
Manufactured and Real-Time Rates
Comprehensive Underwriting (Discounts and Surcharges)
Carrier Credit Scores
Motor Vehicle Reports (ADR, Softech, others…)
ISO Symbol Lookup
Reverse VIN Lookup
Outside Premium Finance
ID Card Printing
Policy Management
Bridging to Carriers
Agency Website Rater
Notes and Suspense
Exceptional Service
and much, much more . . .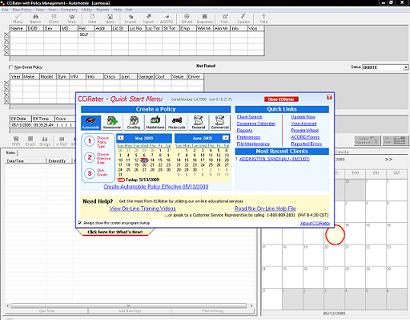 More than a Rater
CCiRater is more than just a rater! It also includes a full-featured policy manager (better than many stand-alone policy management systems) and costs less. CCiRater stores client quotes and policies, includes a Client Contact Log and Agency Suspense Log, and produces comprehensive reports that will keep you on top of your business. All of this at a very affordable price. CCiRater is available in Alabama, Florida, Georgia, Louisiana, and Mississippi, other states coming soon…call us!
Try CCiRater Desktop
FREE
for 14 days
For more information contact a Sales Representative at 1-800-899-2831 (M-F 8-4 CST) or email us at
ccirater@ccirater.com